Category: Events
Category: News
Category: Fund Raising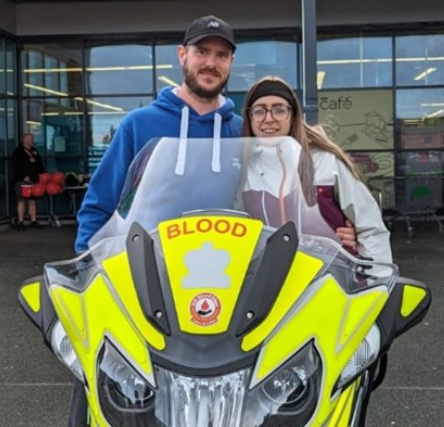 NWBB are delighted to receive support being offered by a couple of energetic and dedicated fundraisers Matthew and Becky Nolan. This Bolton based couple choose to spend a portion of their time raising money for their chosen charitable causes. Although they live on the fringe of NWBB's main areas of operations they are active recreational motorcyclists and know our area well, frequently meeting up with our riders at biker events. So for 2024 year they have decided to run the Greater Manchester Half Marathon with North West Blood Bikes as their sponsored charity - and the training is ongoing already.
Generous support such as this ensures we keep our 300 volunteer riders safe, well equipped and properly insured to deliver the needs of the local NHS trusts across our whole region at night time and weekends when paid taxis would be the alternative.
In any year our costs met by public support are around £180,000 and with that we are able to provide our personal dedicated motorcycle courier service and save our NHS trusts nearly £1m in taxi fares at the same time.
Donations can be made via justgiving
https://www.justgiving.com/page/greatmcrrun24
Matt and Becky we are (probably a long way) behind you. Thank you.
---