Category: Fund Raising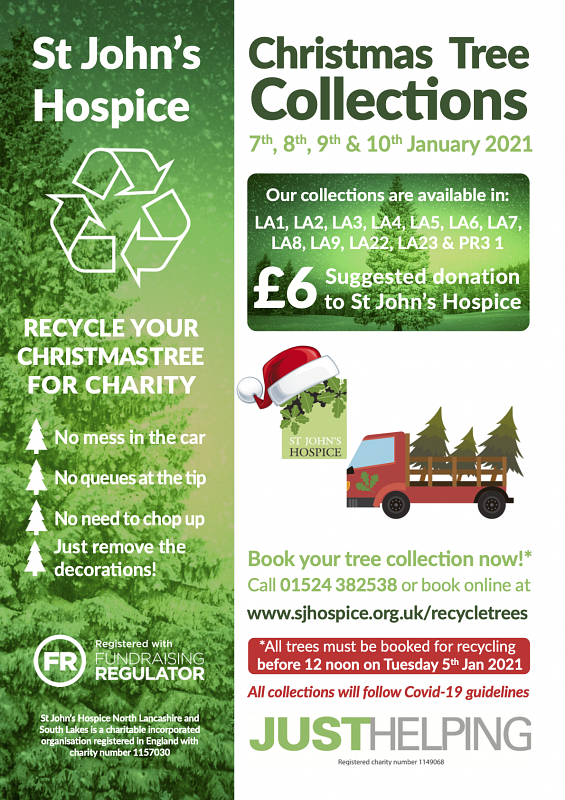 Booking of collections is now closed
For the past 12 years St John's Hospice have collected Christmas trees in the local areas in return for a donation.
"The whole event is quite good fun as we have many volunteers who go out in all weathers across our areas (From Garstang to Grasmere, Milnthorpe to Settle) they love the great Christmas Tree hunt."
Every year they give some of the proceeds to other charities. This year they have chosen 5 local charities to also benefit from this and once again North West Blood Bikes is one of them. We are delighted to have been selected by St John's Hospice and hope that many of our followers and supporters will help them support us and the other worthy causes.
Christmas Tree Collections are on 7th, 8th, 9th & 10th January 2021
Collections are available in: LA1, LA2, LA3, LA4, LA5, LA6, LA7, LA8, LA9, LA22, LA23 & PR3 1
£6 Suggested donation
Book your tree collection now!* Call 01524 382538 or book online at: www.sjhospice.org.uk/recycletrees
*All trees must be booked for recycling before 12 noon on Tuesday 5th Jan 2021
All collections will follow Covid-19 guidelines
---