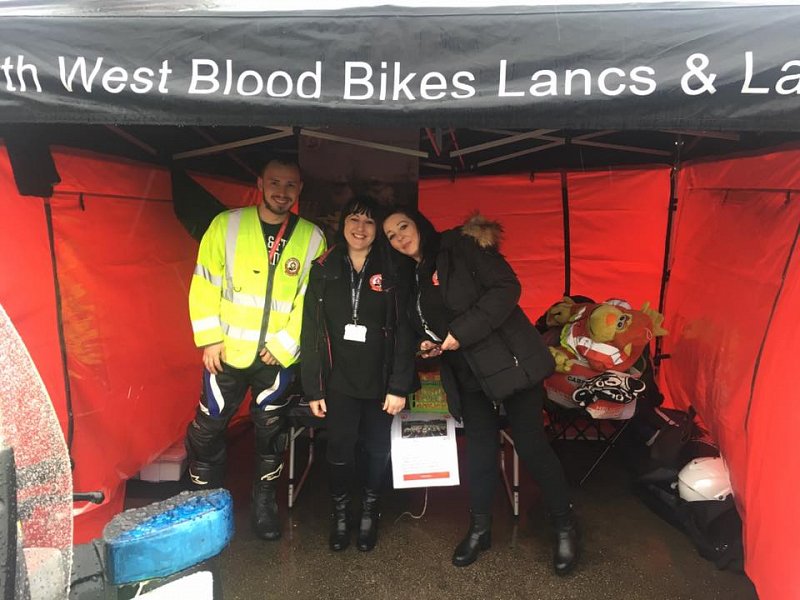 Local fundraiser Becky Newton is raising funds for local charity North West Blood Bikes – Lancs & Lakes (NWBB-LL) by hosting a vintage themed tea party in her home town.
Caritas Care employee Becky, from Chorley has volunteered for the charity since November 2016 and in her spare time helps raise awareness and vital funding for the organisation which provides a service to the local NHS Trusts in Lancashire and South Lakes by providing a free, out of hours courier service transporting urgent and emergency items between hospitals, by motorcycle, for free but in a professional manner. The alternative to NWBB-LL is normally a paid courier service or taxi, something that the NHS Trust has to cover the cost themselves.
A Vintage Tea Party is planned for Sunday 23rd July at 2pm taking place at Euxton Parish Community Centre on School Lane Euxton.
Becky said "I have been baking since my nan taught me at the age of ten and have always had a passion for it ever since. There is nothing more quaint and wonderful than having afternoon tea in a lovely setting and drinking from a china cup." And continued "I absolutely love to bake for people and share my love of cake."
Becky recently made cakes for the NWBB-LL stand at Chorley Yamaha open day, and even bought cupcake toppers with the NWBB-LL logo on for the occasion. "This was my first event and wanted to do something special, they went down a treat. I started planning my next cupcake design and thought why not have a coffee morning" Becky then decided to combine her love of baking, with her passion for all things vintage, and having a dream of one day owning her own tea shop, the Vintage Tea Party idea was born.
"I want to bring together blood bike members' families and friends along with the general public to drink tea, eat cake and raise valuable funds and to raise awareness of what the charity does. We are having a raffle and a competition for the best vintage themed outfit"
A spokesperson for NWBB-LL said "Our members never fail to amaze with the effort they put into supporting the charity. Although the riders are the ones that are usually seen by the hospitals, the fundraisers have a job that is just as important. It costs about £60000 per year to keep the service going, so any contribution no matter how big or small is always appreciated" He added "All our members give their time for free, many riders even pay for their own fuel. They volunteer to help their local communities so that they can help make a difference and because they mainly operate at night, they go unseen. We don't get to see the people we help and quite often they won't even know that we have been involved in their care"
Becky is currently on the lookout for items to decorate the venue and prizes for the raffle "I'm hoping local businesses can help. We're going to need a lot of tea, coffee and milk so any donation will be appreciated"
If you are able to donate or lend vintage items to decorate the venue, or can help out with providing provisions for the day, please contact Becky at beckyb1979@hotmail.co.uk
Becky has also set up a just giving page for people who can't make it on the day but would like to make a contribution www.justgiving.com/fundraising/Becky-Newton6
---