Category: News
Category: Fund Raising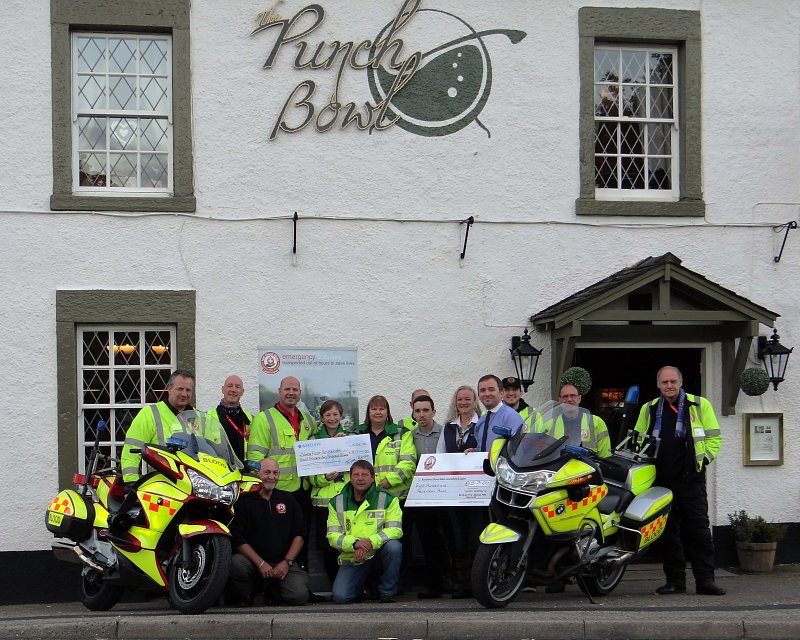 North West Blood Bikes Lancs and Lakes together with Endmoor First Responders recently benefited from the Barclays Bank Charity Match Funding scheme.
Barclays actively supports employees to make a positive contribution to its communities through employee community programmes such as this which match pound for pound any money raised for a charitable cause up to £1,000. The Blood Bikes and First Responders charities were nominated by Wendy Hewitson Barclays Agriculture Manager in the area.
Wendy commented "I deal with remote families in my every day role and my own family live over an hour away from any hospital so I wanted to show just how important services like this are within the rural community. I wanted to contribute by helping at events like this where it not only promotes the charity but allows me to show a different side to Barclays and give something back to the community I live in.'
A cheque for £817 was presented at the Punchbowl Inn at Barrows Green near Kendal. Dave Hall the owner and landlord of the pub organises the Total Retro event each year which provided an opportunity for the two charities to raise funds which were then doubled by the Barclays match funding.
Mike Wilkinson, Deputy Area Manager for North West Blood Bikes added " Support from organisations and individuals enables our charity and the First Responders to continue to support the National Health service in the Morecambe Bay area and donations such as this are always very welcome".
Content supplied by Steve Dunstan (North Area Manager)
---