Category: News
Category: Fund Raising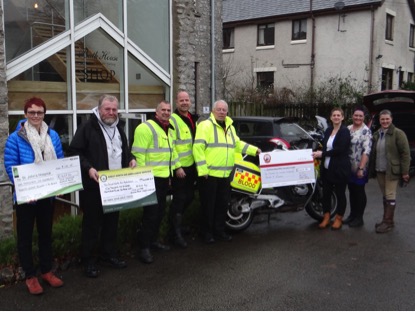 We recently received money from a sponsored head shave****.
The money was raised by Julie, Amanda and Nicola three Sedbergh friends who decided to shave their heads for charity – quite a sacrifice to make when you have a full head of hair. They organised an evening of entertainment, food and music at which they all went under the scissors for charity. They expected to raise a few hundred pounds and were pleasantly surprised when they totalled a massive £4800 which they decided to split between NWBB-LL, Great North Air Ambulance and St. Johns Hospice.
As a result Bob Bryne, Mike Wilkinson and Steve Dunstan were invited to a presentation held at The Bath House in Sedbergh where they received a cheque for a massive £1628.30. After the presentation they retired for coffee and cakes and had the opportunity to speak with the three "victims" as well as the representatives from the other charities. As you can see from the photo the three friends were still sporting short haircuts and massive smiles.
---