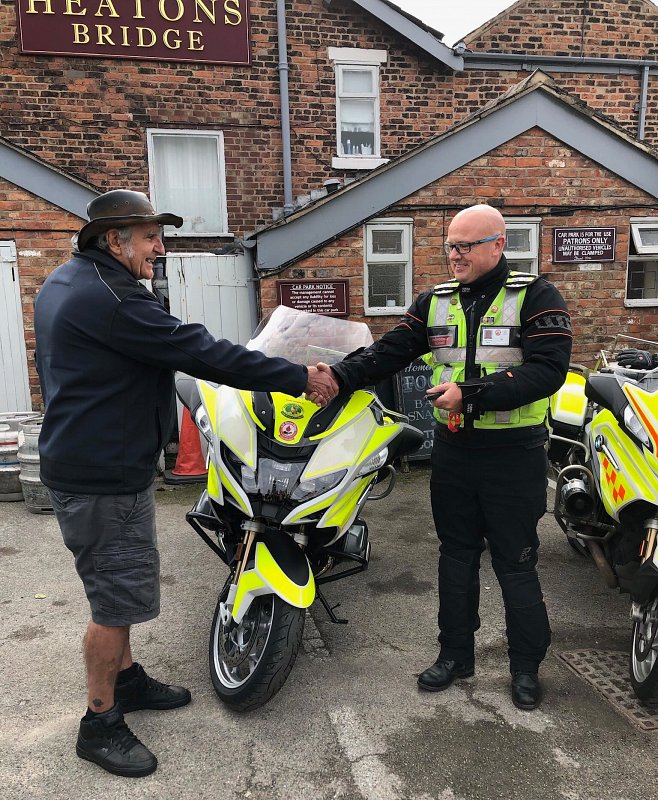 No it isn't another seaborne invasion in galleons.
Scarisbrick Armada Motorcycle club have been wonderful supporters of charities including North West Blood Bikes over the years. Their famous Plop Enduro race series is legendary for the excitement and spectacle as very simple machines are cooked to the abolute limit and pushed well beyond what the designers in Japan could have imagined in their wildest manga dreams.
Out of the success of the Plop Enduro series the club distributes funds to worthy causes and in 2018 they donated a "authorities specification" BMW RT1200 liveried bike to North West Blood Bikes Lancs and Lakes.(Photo above) The bike has of course been based in our West area which includes Scarisbrick and has clocked up 51,000 miles on the mission to carry blood, samples and any other medical items out of hours for the NHS. West Area riders quickly christened the bike "Plop" in recognition of the race series.
But now our good friends at Scarisbrick want to repeat the honour and will be presenting another brand new BMW RT1250 to North West Blood Bikes to work alongside the existing machine. The handover ceremony takes place at the Heatons Bridge Inn Scarisbrick at 12.00 on Saturday 16th October.
Said one West rider and regular user of the current bike: "The RT is a premium motorcycle with of course a price to match but for what we do it is pretty much unbeatable. It has presence on the road, weather protection for the rider, good load carrying capacity and can still make rapid, legal progress through heavy traffic when needed."
This is one Armada that is very very welcome in these parts.
---