Category: Events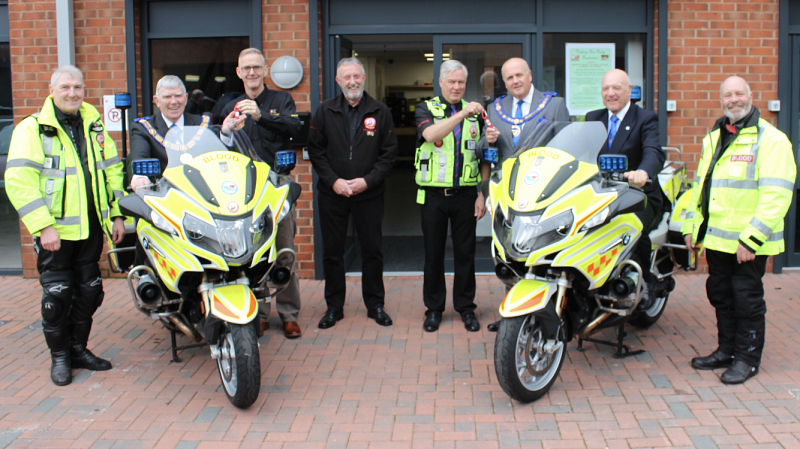 In response to an appeal by local charity 'North West Blood Bikes'(NWBB) for help in replacing their ageing fleet of motorbikes, Freemasons from West Lancashire were swift to respond. Their own, local West Lancashire Freemasons' Charity (WLFC) were delighted to be able to present two, brand new BMW R1200RT-P motorbikes, complete with all the necessary additional equipment, to enable this voluntary emergency organisation to continue supporting our local hospitals and NHS.
The leader of the West Lancashire Freemasons, Tony Harrison recently visited the NWBB headquarters at Preston to officially hand over the two new bikes which were purchased and equipped by the Freemasons at a gross cost of £40,000. Joining him at the presentation were two additional senior Masons, David Winder and Kevin Poynton along with Steve Kayne (CEO of the West Lancashire Freemasons' Charity).
Welcoming them to the North West Blood Bikes (NWBB) headquarters at Bamber Bridge were NWBB Chairman Paul Brooks, vice chairman Lee Townsend, fleet manager Simon Hanson and the area manager Martin Walsh.
The motor bikes have been built to a specification that is, effectively, the same as that for police vehicles. The only difference is that the Blood Bikes are fitted with a special carrying rack to transport medical items and the paintwork is orange rather than the standard police blue. In addition, the bikes carry the logo and coat of arms of the West Lancashire Freemasons', acknowledging their sponsorship.
In officially handing over the two vehicles, Tony Harrison said that he was delighted, on behalf of the Freemasons in West Lancashire, to be able to present these motorbikes to North West Blood Bikes as they will help them in the vital role they play in supporting the NHS in their work and be of immense benefit to the local community.
In his response, Simon Hanson said that as fleet manager, he had been working with Honda, BMW, multiple charities and local businesses to seek support in replacing the existing fleet of 12 NWBB liveried motorbikes. He commented that most of those vehicles had already covered over 80,000 miles and in some cases were over eight years old. Simon added: "This is an incredibly generous donation by West Lancashire Freemasons' and goes a long way to help us in continuing to provide our essential support to the local hospitals and NHS."
On presenting Tony Harrison with a certificate of thanks, NWBB Chairman Paul Brooks further explained: "We are extremely grateful for the support we receive from all our sponsors, but it is especially gratifying to receive these two wonderful bikes from the Freemasons, as we have so many local Freemasons who also donate their time as volunteer riders for our charity."
North West Blood Bikes is a non-profit making charity, run entirely by volunteers. They provide an emergency transport service for the local NHS outside of normal working hours, usually on weekday evenings and over weekends. Using a combination of members cars, motor bikes and the 'official liveried' bikes, North West Blood Bikes provide a voluntary out of hours transport for urgent and emergency blood, blood derivatives, samples, donor breast milk for premature babies, doctor's notes, and theatre equipment - in fact anything that can be carried by motorcycle, between hospitals. On average, NWBB responds to some 1,000 calls per month for its services and has five bases covering the whole of the north west area.
Pictured left to right: Martin Walsh, Tony Harrison, Lee Townsend, Paul Brooks, Simon Hanson, David Winder, Steve Kayne, Mike Ashton.
To learn more about the work of the West Lancashire Freemasons, visit their website at West Lancashire Freemasons.
---