Category: News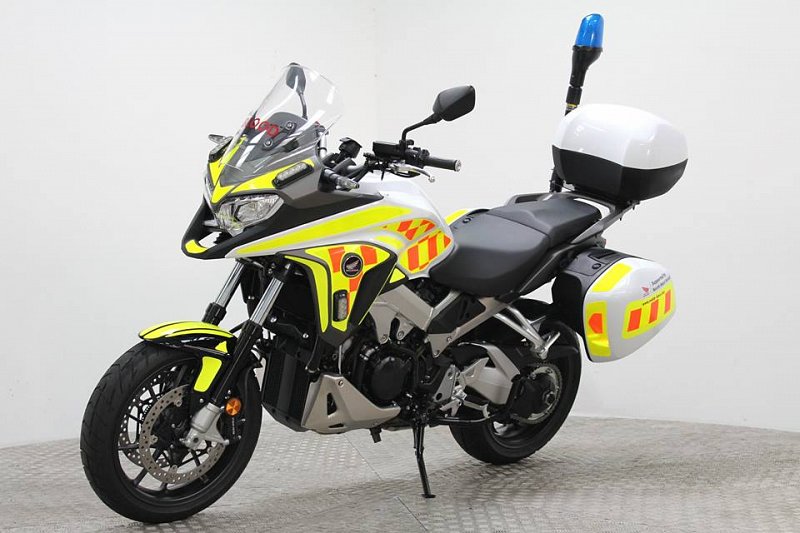 North West Honda Blackpool is thrilled to find the Honda VFR800X Crossrunner is a perfect match for North West Blood Bikes. The dealership, based on Lytham St.Annes Way, sponsored the use of a liveried Honda Crossrunner motorbike by the charity with a plan to replace the bike for a new one every six months to give the hardworking volunteers a reliable and safe mode of transport to deliver vital products to hospitals around the North West. The loaned bike was used from September 2016 and is used every day, feedback from the volunteer bikers found the Honda Crossrunner was a popular choice for its members.
Recently, a national public vote in the Aviva Community Awards secured additional funding of £25,000 to spend on vehicles. The group chose to invest these in the trio of Crossrunners. Reflecting the spirit of the Community Awards and ensuring that North West Blood Runners could continue its vital work, North West Honda Blackpool offered an exceptional deal.
North West Blood Bikes is one of the largest volunteer-run Emergency transportation groups with over 350 volunteers and up to 21 liveried bikes available for out-of-hours calls. They distribute items between 16 hospitals across five trusts including whole blood, donor breast milk and patient notes relieving pressure on NHS funds.
The adventure style Crossrunner motorbike is perfectly designed for transporting goods. Its high riding position delivers a comfy ride – vital for volunteers who've often done a full day's work before heading off on duty. A key feature is the easy to attach panniers and top box which allows secure and steady storage of goods which are often quickly transported between destinations. The engine uses Honda's latest powertrain technology meaning it's not only powerful and reliable, but also fuel efficient which is crucial for the charity which needs to save costs wherever possible.
Simon Carter, Sales Manager at North West Honda Blackpool, said: "We are thrilled to support such a worthwhile cause and are proud North West Blood Bikes has chosen to put their trust in Honda." "The North West Blood Bikes originally enquired about the Honda ST1300 Pan-European bike, but after discussing their needs in more detail and taking comments from the blood bikers that had ridden the loan bike we all agreed the Crossrunner would be a better fit for their needs. We always strive to support good causes wherever possible and this seemed like the perfect way we could give back to the local community."
Lee Townsend, Vice Chairman at North West Blood Bikes, said: "We are really looking forward to collecting our three Crossrunners in March from North West Honda Blackpool. The large discount Honda gave us meant we were able to get much more for our money. The choice of bike is ideal as although our main focus is to get products to their destination as quickly as possible, it's really important we offer our volunteers a safe, reliable and comfortable vehicle to deliver such important goods."
---