Category: News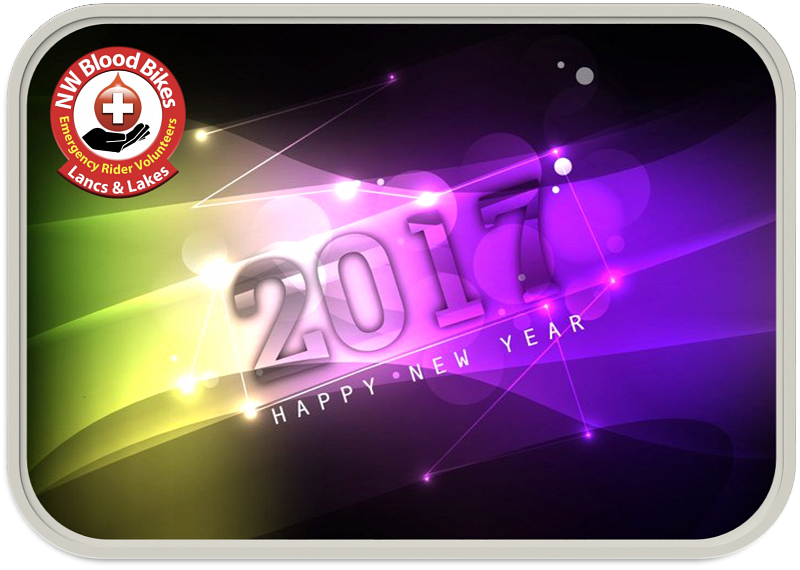 2016 has been a record breaking year for North West Blood Bikes – Lancs & Lakes. There have been some good times and some sad times.
The charity was started in May 2012 with less than 12 members, it has grown over the years to now have over 350 members who are all volunteers and give their time to offer the free service to 5 NHS trusts across the area.
The riders who can ride either the charities liveried emergency bikes or their own private bikes are spread across the North West so that they can best serve the hospitals nearest to them. Our North area which covers Barrow, Kendal and Lancaster, Fylde covers the hospitals in the Blackpool area, Central covers Preston and Chorley hospitals, West covers Ormskirk and Southport areas and finally East covers Blackburn and Burnley hospitals.
The chances are that members of the public are be unaware of the service and will have no idea that these volunteers have been involved in their treatment. Whether it's a sample of blood that requires specialist testing at a Pathology Lab away from the hospital, or they require treatment at another hospital where the patient notes are not held, or their medication is not stored in the hospitals own pharmacy or the pharmacy's stocks are running low.
As the name of the charity suggests, we also transport blood and blood products, which are required urgently by the hospitals to help give their patients the best treatment.
Often referred to as "Angels on 2 wheels", the volunteers operate when the hospitals own transport doesn't, this is mainly at night and at weekends and Bank Holidays. The alternative transport options for the hospitals are taxis or private couriers, both of which have an impact on the hospitals running costs, and this money can be better spent on patient care.
The riders are backed up by a dedicated team of call takers (controllers) who volunteer their time and work from home receiving calls from the hospitals and dispatching the riders. Their work doesn't stop there, they also record all the details from collection to delivery of the items, and ensure that the riders are safe while on the road by ensuring regular contact is kept until the rider arrives back home safely. Given that there are riders out 365 days, or in the charities case, nights per year and motorcyclists being amongst the most vulnerable road users, this level of cover is key to the charity ensuring that not only the patient receives the best service from us, but the riders are able to do the next run which could be life saving.
The charity is run solely on donations and our events and fundraising team ensure that funds keep on coming in to ensure we can continue to offer the service. Whether it's talks to local groups to raise awareness of who we are, attending galas and shows or even collections at supermarkets or other venues. The charity can guarantee that every penny collected goes into charity funds to ensure that the bikes stay on the road, no one takes a wage and every member gives their time for free.
Although the majority of runs take place at night, we also have members who are prepared to give up their time during the day. Our riders have been involved in cross country runs with members from other blood bike groups around the country. A courier could charge upwards of £400 to transport a sample from one end of the country to the other, through the blood bikes network this can be done for free and if needed, blue lights can be used so that they can safely pass through traffic. This can make a difference to the time it takes for a patient to receive the correct treatment.
There is also a specialist team who deliver donor breast milk for the neonatal units at the hospitals. These members are available 24 hours a day and ensure that new born babies get the much-needed nutrients from natural milk to aid their development and promote recovery from illness.
Not forgetting the volunteers who work in the background completing tasks that keep the charity running smoothly, membership, recruitment, rota managers and our webmaster Greg from Technology Applied who keeps the website running for us.
Some memorable moments in our year include: In September 2015 we received a visit from a member of a team who report back to Her Majesty The Queen on charities. He wanted to know what we did and as a result on 2nd June 2016 Her Majesty bestowed the Queens Award to Voluntary Service (QAVS) on us, which is the equivalent of an MBE but for a group rather than an individual.
In August some of our members attended the National Lottery Awards show in London, where the charity received the award for the health category from TV presenter Rav Wilding. This couldn't have been achieved without the help of the many members, their families and friends and also the members of the public who voted for us.
With the good times, there have also been the sad. In April, the charity was asked to escort the funeral of Malachi Mitchell-Thomas, the young road racer who was killed while racing in Ireland. Just as we thought that was a sad occasion, we lost one of our own when Central rider Marcel Falloon passed away peacefully in his sleep. Members of the charity from all areas were joined by other blood bike members from around the country as well as the biking community and escorted Marcel on his final journey. Marcels sister, Collette has vowed to carry on Marcels legacy and is undergoing training to become a blood biker.
In November, one of the riders, photography student Niall Miller was attacked in Bolton as 2 people tried to steal his bike. When the offenders realised that they couldn't take the bike, they pushed the bike over and began causing damage that totalled over £2000. Treasurer Haydn Williams made an appeal to the biking community for any spare parts they could donate to reduce the repair costs and Central rider Jason Alston started a fundraising appeal which with the help of not only the biking community, but also members of the public hit its target within 16 hours. There were also offers of help with the repairs and parts from around the country and with the help of Youles in Blackburn, The Hogfather Motorcycles in Southport and North West Motorcycles Direct, Niall was able to get his bike back on the road and resume his duties.
The year has been rounded out on a high. Having just completed 30,000 runs in total, we can also announce that December 2016 has been the busiest month ever for our members with the riders completing 1090 deliveries in a month which was just a small part of the 11450 successful runs this year. The controllers have been exceptional with handling 11690 requests throughout the year.
Warren Bolton, the Central area manager said "First and foremost, Central Area has had 21 new riders this year. The rota is looking healthy and we all have significantly helped complete over 2000 runs for the Lancashire Teaching Hospitals NHS Trust during 2016.
We have had 5 people that have passed their advanced riding, which gives them the opportunity to ride the charities liveried bikes. We have had riders trained to use the emergency equipment on the bikes, with more training planned for next year
Central riders also called on other areas to help with the marshalling of The blue light walking last leg event from Preston to Blackpool."
Controller manager, Duncan Oag paid tribute to the controllers who receive the calls. "In 2016 the controllers have handled over 11,500 requests from the local hospitals. During November, we passed the number of calls received during 2015. Our riders have completed over 11,000 runs in 2016 we recently completed over 30,000 runs since the charity began."
Steve Dunstan the North area manager added "I'm pleased and very proud to be able to report a successful and increasingly busy year for North West Blood Bikes Lancs and Lakes in the Morecambe Bay Hospitals area.
We have seen volunteer numbers increase with 70 riders covering the Lancaster, Kendal and Barrow in Furness Hospitals supported by controllers and fundraisers who live in the area.
A record year has seen over 1700 calls responded to in this area with our riders covering the best part of 36,000 miles on the way (or nearly 1.5 times around the world), saving the hospitals in the North area in the region of £115,000 in taxi fares.
Most of these runs have been to deliver path lab samples, blood and platelets, medication and patient notes although we have had also been able to respond to several urgent runs further afield. These have included delivering urgent samples to Newcastle, Manchester, Leeds and Speke to name just a few.
Whilst many of our riders use their own bikes we are extremely fortunate that over 70% of them are trained to an advanced riding level meaning that they are eligible to ride our fleet liveried bikes."
Chairman Paul Brooks said "There are Blood Bike groups all over the UK, but NWBB Lancs & Lakes is by far the largest and busiest group. In our first year we were called out 812 times, we are now averaging 10,000 call outs per year, imagine how much the Hospitals in the North West would have spent on Taxis or couriers. We have covered mileages, which would have taken us round the world several times, but we do it for free."
He continued "Our Men and Women are special, wanting to help their fellow man/woman and many are trained in First Aid and how to use Defibrillators. We also have some member's children with us who help out at events.
Thanks to the many members of the public who help us keep our charity going, without them we couldn't do it."
The charity has received some generous donations during the year. Blackpool Honda donated a bike to the Fylde area. Not only did they donate the bike, they also made sure it was fit for purpose by ensuring it was liveried up and had the emergency equipment fitted. Fylde Manager Pete Howarth received the bike from Blackpool Honda sales manager Simon Carter at an event attended by over 500 people before it led the way for the Ride The Lights event along Blackpool Promenade.
BNFL Springfields Employees Charitable Trust made a donation to enable the charity to buy blood box covers for all existing and new riders. These ensure that blood products are protected from the elements during transportation. Delivery is expected in early 2017.
The charity could not possibly do this without the exceptional support we receive from many service organisations such as Rotary, Lions club, Masons, Women's Institute and Inner Wheel. We have received a number of donations from bike clubs, pubs, motorcycle dealers, sheep farmer's associations, sponsored head shaves as well as support from local businesses including Shorrocks Motorcycles in Penwortham, Homeserve, Lancashire Fire and Rescue who offer space for storage of our bikes and Lancashire Constabulary who assist with blue light training of our riders, plus many more, there are too many to mention.
We do not depend on group donations totally and have had several fundraising events during the year including a Family Fun Day and several music related activities. Perhaps one of our more unusual activities arose when a local artist offered to paint a picture and donate it to us to sell. He produced a stunning painting of local racer John McGuinness (The Morecambe Missile) breaking the lap record at the Isle of Man TT race. With the sale of the original and some excellent prints we did very well. One of the main events of the year was the Black Tie Ball organised by East rider and trustee Scott Miller and his wife Danielle.
When we are on call we expect the unexpected. As we say "There's no such thing as a typical shift". We carry first aid kits and many of our members are first aid trained – just in case. However new rider Robert Clarke had an unusual start to blood biking when he became involved in a duck rescue outside the Royal Lancaster Infirmary.
We never know what we are carrying between hospitals, we will never meet the patient and it's extremely unusual for us to know if we have made a difference, however on one occasion this year North rider Malcolm McDowell was amazed to realise that samples he had delivered the previous night belonged to his son who had been admitted to Westmorland General that evening.
2017 promises to be another busy year for North West Blood Bikes. We are expecting some exciting changes, working with our local hospitals and a team of software developers who specialise in building bespoke software for charities so that we can develop our own membership, rota and dispatch system, we will continue to provide a professional service to the public in the North West.
Happy New Year to you and your families and may you have a prosperous and healthy 2017.
---