Category: News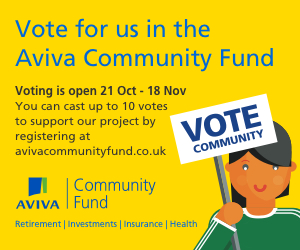 North West Blood Bikes – Lancs & Lakes need your help. A few minutes of your time could make the difference. The charity has been nominated for an Aviva Community Fund award in the Health, Disability and Well-being category, and this is where you come in. To make it to the finals North West Blood Bikes – Lancs & Lakes need your votes. Voting opens on 21st October 2016 and runs through to 18th November 2016. To cast your vote visit the Aviva Community Fund website Each person can vote 10 times for the project of their choice.
North West Blood Bikes – Lancs & Lakes are hoping to secure the funding for 2 motorbikes. This will enable the volunteers to continue their work to the local communities and continue saving lives.
Operating an out of hours service 365 days a year to our 5 local NHS Trusts, the charity, which was awarded the Queens Award for Voluntary Services in June this year, transport urgent and emergency items such as donor breast milk for premature babies, blood for transfusion, samples for testing, medical equipment, amongst others, between local hospitals and can also travel further afield and have taken part in runs to Great Ormond Street, Cardiff and Birmingham.
All the members of the charity are volunteers and give up their spare time to help the hospitals. Since its start in 2012, the riders have completed over 27,000 runs. How many people in the community has this helped is something that cannot be counted! Every time that one of the controllers receives a call from the hospitals to request a rider, they are aware that their actions could not only change the life of the patient, but also the lives of their families.
The majority of the riders use their own bikes to make the deliveries, paying for their own fuel and maintenance. Riders with an Advanced Riding Qualification have the option to ride one of the charities liveried bikes and can be further trained to use the emergency equipment fitted to the bikes.
If you would like to volunteer for the charity, please visit our website for more information. You don't need to ride a bike to get involved, the controllers work from home receiving calls from the hospitals, fundraisers attend events to help raise funds to help keep our bikes on the road. All we ask of our volunteers is 2 shifts per month.
You can even support us if you do not have much spare time by making a donation. As the charity is solely a voluntary organisation, 100% of all donations go to keeping the charity on the road. Even the smallest amount is put to good use.
---