Shorrocks
A little about Shorrocks.
Shorrocks Motorcycles was established in 1986, and since then, we have made it our aim to sell new and quality used motorcycles, spares and accessories to bikers at the best possible price. Used motorcycles are hand picked, all are test ridden, checked through HPi and checked by a qualified mechanic before being bought. Once sold, again they are throughly checked over and carry a three month parts and labour warranty. We supply new motorcycles, imported from around the world, whether you want bikes for the road, motorcross, enduro or kids bikes/quads, all at the best possible price. Our clothing spares and accessories department is the largest in Preston, Lancashire, with almost every top known brand sold, and we aim to beat any price. In our newly built workshop we repair and service any make of motorcycle at very competitive rates, and our mechanics all have over 15 years experience in the motorcycle trade. Shorrock's are great supporters of NWBB Lancs & Lakes and give us great discounts.
How Shorrocks has helped support us.
They help North West Blood Bikes by offering great service to us at discounted costs. They also help to raise funds for us and increase awareness of our work through hosting special events.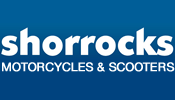 Why not visit the Shorrocks web site at: www.shorrocks.co.uk
Back to other Sponsors