North-West Honda - Blackpool
A little about North-West Honda - Blackpool.
Simon Carter and the Team at North-West Honda in Blackpool are a a superb sponsor and supporter of North-West Blood Bikes. They have provided the charity with a new fully liveried bike for the Fylde Area at no cost to the charity and in September 2017 at the end of the first 12 months they replaced this with another new Honda VFR800 fully liveried as a Blood Bike.
How North-West Honda - Blackpool has helped support us.
In addition to the sponsorship of the Fylde Bike they have also supplied the Charity with 3 other new VFR800's and a Pan European all at significant discount.
North-West Honda also provide significant discounts on Servicing and Parts and also hep in the disposal of some of our older fleet.
Thanks to Simon & all the team at Blackpool Honda for your continued support to us.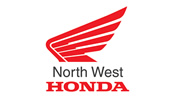 Why not visit the North-West Honda - Blackpool web site at: https://coxmotorgroup.com/locations/dealership/north-west-honda-super-centre
Back to other Sponsors